The overall goal of this preliminary research project was to evaluate the different bait-attractant mixture ratios (BAMR) using commercial crab trapping practices. The specific objectives of were as follows:
To compare the dissolution rates of four different bait-attractant mixture ratios, and

To evaluate the catch rates of four bait-attractant mixture ratios using commercial harvesting practices of the blue crab (Callinectes sapidus) fishery.
The initial results from the pilot study, conducted on the recreational harvest of the blue crab, indicated that the bait-attractant exhibited attractant properties. The fish solubles bait-attractant caught more crabs per gram of bait-attractant used than the control. In addition, the treatment bait-attractant fished longer than the control bait-attractant.
Preliminary results in the recreational crab fishery, indicated a reduction in overhead costs for fisherman through reduced bait-attractant costs, decreased bait handling investments, and suggested an increase in harvest.
The development of the artificial crab baits was conducted by research faculty and staff of the Mississippi State University, Coastal Aquaculture Unit in Gulfport, Mississippi in 2004. These preliminary recreational crabbing trials were conducted in July and August 2004 in Bay St. Louis, Mississippi. There was no further testing conducted since the Coastal Aquaculture Unit was closed in January 2005.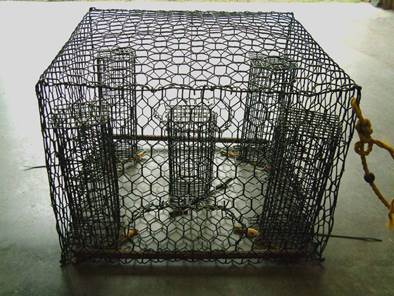 Publication:
Peterman, Mark A., Jeff A. Dillon, and Benedict C. Posadas. 2005. Use of Artificial Baits in Crab Trapping in Coastal Mississippi. Research Report. Mississippi State University, Coastal Research and Extension Center, Biloxi, Mississippi.