Commercial Oystering corresponds to economic sector 114112 (Shellfish Fishing) in the North American Industrial Classification System (NAICS). Shellfish Fishing comprises establishments primarily engaged in the commercial catching or taking of shellfish (e.g., clams, crabs, lobsters, mussels, oysters, sea urchins, shrimp) from their natural habitat.
The annual Mississippi commercial oyster landings and landing values from 2000 to 2012 are shown below.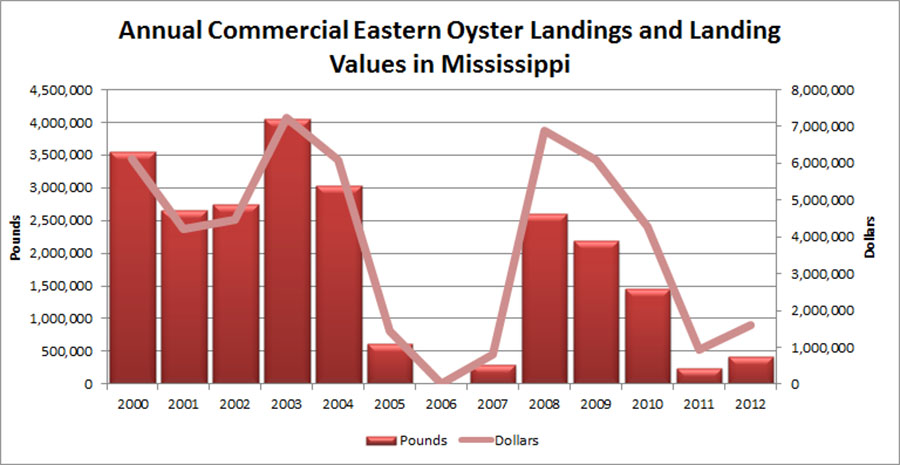 Source of raw data: NOAA Fisheries.
The number of Mississippi commercial oyster licenses issued to resident and non-resident commercial fishermen are shown below.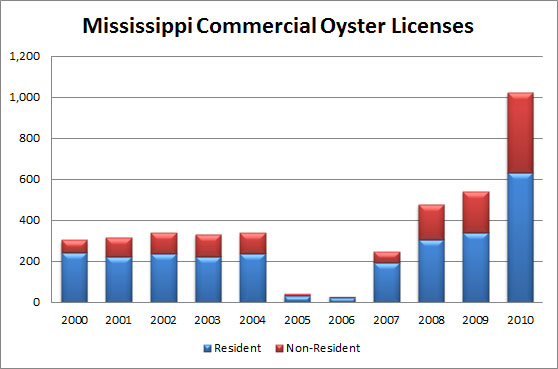 Source of raw data:MS-DMR Annual Reports.
Mississippi oystermen have a maximum number of sacks of oysters they can harvest each day when the state oyster reefs are open for harvest. These oysters must be landed and refrigerated within a certain number of hours from harvest time. Adherence to these harvesting and refrigeration procedures makes Mississippi oysters in compliant with federal sanitation and safety standards. 
See pictures of 2013 oyster season harvesting at HME and MSMarketMaker Facebook pages.